I am attempting to gradually visit all of Amsterdam's museums in roughly alphabetical order. This one isn't on that list, but it was recommended to me by a couple of people. The previous one was the the Erotic Museum. The next one is the EYE Film Museum.
Electric Ladyland is a museum that comes with a playlist. It bills itself as the first and only museum of fluorescent art, and it sure isn't like anything else I've come across. It may also be the most hippy place I've ever been to. The museum itself is in the basement of an old Amsterdam building on a small street, downstairs from a room that seems to be a cross between a gallery and an art studio.
Once you navigate the tiny Dutch staircase you enter a room that, under normal lighting, looks like a collection of miscellaneous things: some plain paintings, a few shelves of minerals, some old technological things, and a glowing multicoloured lava formation. The sorts of things you find in so many small museums around here.
Note: none of the photos I took here have any post-processing applied aside from some cropping, there's no HDR going on, only what my camera does to make low-light photos show up well (a side effect of this is that I had to throw many pictures out as the longer exposures are easy to end up blurry if you have no tripod. Luckily I took quite a few and a good number worked out.)
This cave is human-sized if you're careful not to bump your head on the stalactites, and climbing around in it is encouraged. There are also interactive button-pressing things you can do to changing the lighting in part of it to see how things look different under different types of UV. The differences between short- and long-wave UV are best seen by going there and witnessing them in person, just let me say that the sorts of UV lamps you get in a club have got nothing on what they show you here. On the other hand, they won't give you sunburn too.
I would have like to get a lot of before-and-after pictures of the art pieces, but unfortunately it's not a big room and it was reasonably full of people so that was hard to coordinate. However here's one I did manage to get:
There's quite a good sampling of what people have done with fluorescent art, and the guy presenting (Nick I think is his name) will explain in depth anything you want to know about the methods, the minerals, where they come from, how they were made, and the history of the styles.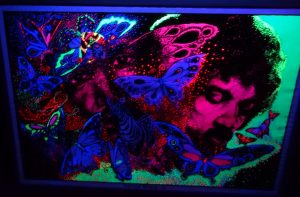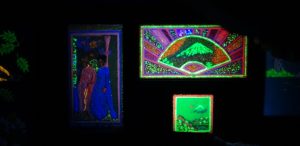 There's also a number of collections of the minerals that are, in some cases, used to produces these artworks.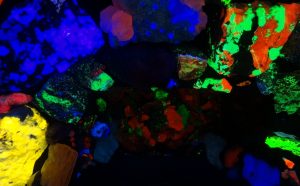 It's not all about the things that glow, there's also some displays discussing the history of UV, of fluorescent art, and other things along those lines.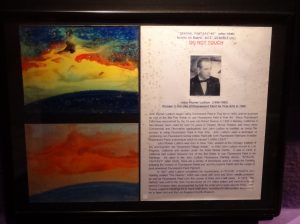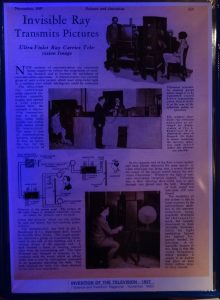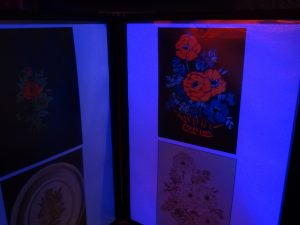 There's one thing that I can't show you pictures of here, and that's the stories and the details that Nick goes into about everything. He has run the museum for quite some years now, and knows in great detail all the things there, and will happily tell you everything about them you could care to know.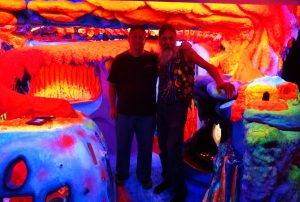 Beyond the above, there are a few things to note:
Do not wear sunscreen before hand. If this rubs off you onto the sculptures, it will block the UV getting to them and they won't look nearly so good. You may be kicked out.
The museum is run in tours that are about 45 minutes long, so you're best getting there slightly before the start of the tours. Being in there before other people show up is the best way of getting room to take some photos.
If you want to check out more photos, have a look at the museum's website, there are pictures of just about everything there. And they really do look like the photos.
Cost: €5, children under 12 are free.
Language: English
Location: Tweede Leliedwarsstraat 5, 1015 TB Amsterdam. You're not getting directions from me, scroll to the bottom of the museum's page for extremely comprehensive directions. Just note that it's easy walking through a nice area from the Anne Frank house and Westerkerk.
Hours: Tuesday – Saturday, 13:00-18:00. Tours start at 13:45, 14:45, 15:30, 16:15, and 17:00 so arrive five or ten minutes before then.
It took me about an hour and ten minutes to sort the photos and write this up, which is happily just shorter than the Jimmy Hendrix album of this name that I had playing while I did it. I finished to "All Along the Watchtower."