I am attempting to gradually visit all of Amsterdam's museums in roughly alphabetical order. The previous one was the Electric Tramway Museum. The next is Electric Ladyland.
The Erotic Museum sits in the middle of Amsterdam's (in)famous Red Light District. It has four floors, containing various erotically-themed things. There is a lot of art, both modern and historical, displays, books, toys, magazines, equipment, and so on. This post contains pictures from there, and may be NSFW.
The ground floor entrance is where you buy your tickets, and has (as their website puts it) "a typical Dutch girl on a very special bicycle". It also contains a shop, should you need to stock up. A good place to equip for a hens night or bachelor party if you're over from Britain, too.
The first floor contains a lot of historic items, from pipes with pictures of naked people, to plates with pictures of naked people, to pictures of naked people. You get the drift. There's actually quite a variety of stuff here, some of it old, some contemporary.
Up the stairs again tries to be perhaps a bit more highbrow, being where the classier (if that's the right word) art is. Sculptures and some more paintings. It also has old pornographic photos, including a bit of stuff about the likes of Betty Page. This section also has books and more artefacts.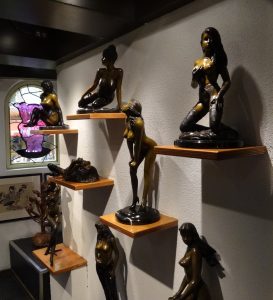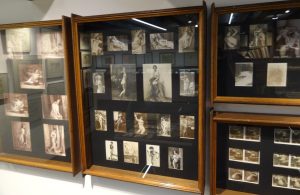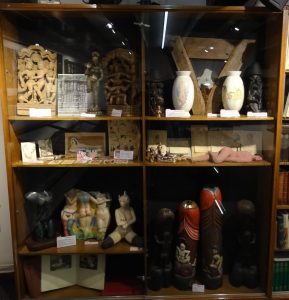 You get to top floor, and you're presented with an S&M dungeon. You'd think this'd be downstairs, but you'd be wrong. There's not really much that can be said about this that the photos won't convey, I think.
The Erotic Museum is there clearly for tourists. There's some interesting and titillating stuff there, but you're probably going to have a quick visit, and I'm not sure that it's quite worth the entry price. On the other hand, if you're already exploring the Red Light District with friends, it could be fun to visit after a couple of drinks. Given the opening hours, I think that's a common situation.
Cost: €7, or €6.50 if you get a ticket online.
Language: English mostly. A bit of Dutch around too.
Location: Oudezijds Achterburgwal 54, Amsterdam. You could take any metro from Amsterdam Centraal Station to Nieuwmarkt, but if you're coming from there it's only 10 minutes walk anyway. Don't bike, no one who is in that part of town knows that walking in bike lanes is a bad thing or what a bell means. Guess how I tried to get there.
Hours: 11:00-01:00, or 02:00 on Friday and Saturday nights.