I am attempting to gradually visit all of Amsterdam's museums in roughly alphabetical order. The previous one was the Diamant Museum (Diamond Museum).The next one is the Erotic Museum.
Amsterdam has had a long history with trams, the first line (line 1) being horse-drawn, and opening in 1875. By around twenty years later, most of it was electrified. Nowadays, electric trams are a major part of getting around Amsterdam, especially when it's raining or your bike is stolen. The Electric Tramway Museum keeps and maintains a bunch of old trams from Amsterdam and elsewhere, and lets you ride in them!
When you enter the old Haarlemmermeerstation building, you see a whole lot of tram-related paraphernalia (models, uniforms, even a control panel from a tram.) In the room straight through, there is the tramshop. Here you can buy books, models, DVDs, and so on about trams and their history. To the rear of the shop is a door that opens into the area where the trams actually depart from.
Now, so far it doesn't seem like there's actually a museum involved. It turns out that the museums are the trams themselves! The trams are restored trams from (what I saw) Amsterdam and Vienna — although the website talks about many others. The one I went on, the red one above, once travelled line 5 in Vienna, between Praterstern and Mariahilfer Gürtel. It has a lovely polished wooden interior, and was built in 1929. The ride experience was a bit unusual however, it felt like a learner driver driving a manual car for the first time. I suspect this is more down to the age of the vehicle than the competence of the driver though. Eighty-seven years old is a good showing (the tram, I have no information on the driver.)
Also of note is that the inside is restored as accurately as they reasonably can get it, or at least that's how it looks to the uneducated eye. The signage and advertising inside all look like they are restored versions of what they would have been at the time.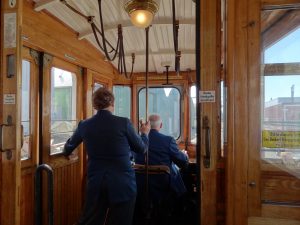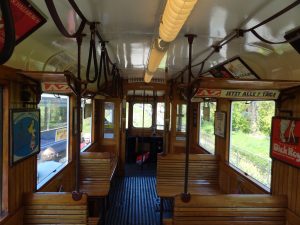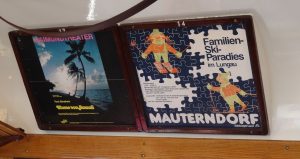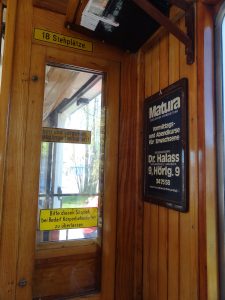 While just having trams that are restored would be reasonably interesting on its own, these ones are actually functioning, and will take you for about an hour long trip (presumably depending on the particular tram) between Harlemmermeerstation and Bovenkerk in Amstelveen, running on their own tracks. When you arrive at the other end, you can get on a different tram to take you back. A word from the wise: don't loiter thinking that it's a nice day to have a look around that part of Amstelveen. There's nothing there. Just hop on that next tram that returns you to civilisation.
The Dutch website has more details of the actual trams that they have, and their histories. It would have been nice to get some of this information while on the tram itself though.
You might like to know that you can rent the trams and have them driven around the city network. This would be a fun thing to do if you need to show a group of people around the city, perhaps. Or if your bike gets stolen and you need to get to work.
Cost: €5 return, €10 for a day pass.
Language: Doesn't really apply outside of the website, which is in Dutch and English.
Location: Harlemmermeerstation. Plenty of busses go there, but you probably want a tram. The 16 stops there, and the 2 stops nearby.
Hours: 11:00-17:00, every Sunday between April and the end of October