I am attempting to gradually visit all of Amsterdam's museums in roughly alphabetical order. This is the second one, but I didn't think to document or write about the Allard Pierson Museum at the time. If you like archeology and related history, just go visit it, it's good. The next one is ARCAM – Architecture Centrum Amsterdam.
The Architecture Centrum Amsterdam (ARCAM) (a.k.a Architectuurcentrum Amsterdam) is an odd looking building. Originally built in 1997 to be part of the nearby NEMO science centre, in 2003 it had a "blob" wrapped around it.
When you go inside, you start on the middle floor. Here, there there is an art display. When I went, it was themed around "light", in order to fit with the Amsterdam Light Festival that is currently going on.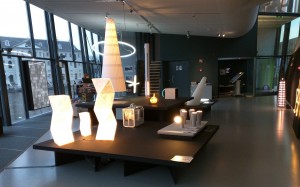 The pieces generally looked like they'd suit an apartment, but I didn't see anything under €1,000 so I chose not to buy any. Most were over twice that price.
From the ground floor, you can head up or down. Up takes you to the offices of the people who actually work there, in their fishbowl with a view over the IJ.
Part of this floor also has a view straight down two stories to the lowest floor, via a slightly creaky sounding steel mesh.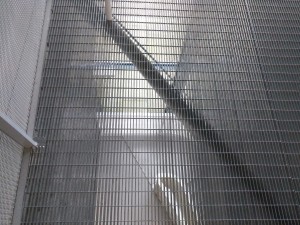 Heading down to the lowest, quayside, floor there is a small conference room, with perhaps the most educational part of the place: an entire wall showing the history of building and architecture in Amsterdam, from 800CE to nearly present day.
While not much of a museum in a traditional sense, the ARCAM building certainly is interesting in its own right. They also do courses and walking tours relating to local architecture on Fridays.
Cost: free
Languages: English, Dutch
Location: Prins Hendrikkade 600, Amsterdam. This is an easy walk from Amsterdam Centraal.